Donkey Tales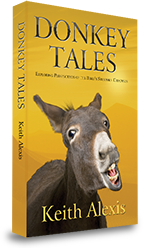 Donkey Tales is a book that brings to the forefront the often overlooked role of the donkey in Bible stories. These ten chapters highlight the donkey as the star and explores spiritual truths that their role inspires. Some of these donkeys you may already know, such as Balaam's donkey or the one upon which Jesus rode into Jerusalem. What about the donkeys of Anah and Abigail, or the donkey that stood against a lion? What can a donkey tell us about our own salvation? These are just some of the donkeys taking center stage in Donkey Tales.
The writing of this book started as an original Sunday School series for an adult Bible study. It would be great for teachers looking for something a little different. Donkey Tales would be great for book clubs and even for casual reading. It may be a little above a young reader, but teens to seniors, men and women should find it easy to be engaged by the stories.
The subject matter includes topics such as finding God's will, being productive members of God's kingdom, and navigating the dry times in our lives. Each chapter contains historical foundations for the text, insightful wisdom, real-life stories, humorous anecdotes, and illustrations on how to apply the lessons of the donkey to daily living. Interweaved throughout each chapter's content are personal stories from the author's plethora of real-life experiences lending further application for the reader.
Release Date - DECEMBER 17, 2013
Published by WordCrafts Press; distributed by Ingram Book Distributors.
Follow the Facebook page for ongoing updates.
If you would like more information about the book please contact:
Keith Alexis 870-866-7724 or